In this episode:
Author Stephenie Hovland returns this week to talk about how she changed her mindset about Christmas from "If you can't do it all, do more" to a more balanced approach. We also discussed how we can prepare now for the necessary celebration changes in a pandemic. There's a giveaway this week and some great resources.

(Article contains affiliate links. This means that when you click a link and make a purchase, I might receive a small commission from that purchase.)
Inspired Life
My guest Stephenie Hovland is back on the show — this time to talk about preparing for Christmas. In a time when our traditions might need to change a bit, we can still have a wonderful Christmas holiday.
Stephenie shared about the year when she crashed and burned and had to rethink how she spent the holidays. Her family ultimately discovered that they didn't need the over-the-top Christmas they had grown accustomed to with excess bakery, hand-stamped greeting cards, homemade gifts, lights, trees, the whole works.
I could totally relate when Stephenie said that when she became overwhelmed, instead of doing less, her mindset shifted to:
If you can't do it all, do more.
It might sound crazy, but I know exactly how her mind works. Recovering perfectionist here!
Life, Repurposed
Stephenie gave some tips for how we can make advent meaningful at home, not just at church. She also shared an idea for how we can create a top three list of what really matters to us and then find creative ways to make those things happen. For example, if family is important and we can't be together, then a priority is figuring out a different way to still feel connected. She personally makes sure that her advent devotions are meaningful in a way that help her connect with Jesus more  — one of her top three.
I also loved the idea of creating a mission statement for your family or yourself just for the holiday season. It brings more meaning and helps us to stay focused on what is important.
---
A pastor's wife, former teacher, and mother of two grown girls, Stephenie Hovland helps others connect to God. She finds unique ways each of us can kindle the fires of our faith-filled lives. She's the first to admit she has plenty to work on. Join Stephenie as she walks alongside other Christian women, sharing weaknesses and strengths, supporting one another. You can find Stephenie's devotion booklets at CreativeCommunications.com, and you can find Stephenie at StephenieHovland.com.
You can connect with Stephenie on Facebook on her author page.
Recommended Resources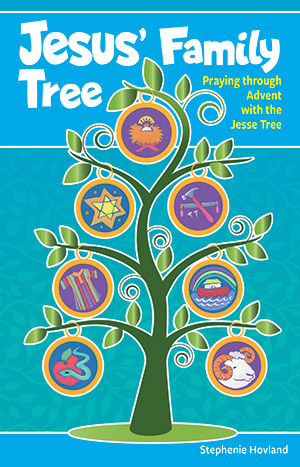 Stephenie
 has several Christmas and Advent resources that she has written. Two of these are booklets to use for personal devotions. The first is one to use with the kids. It's titled Jesus' Family Tree: Praying Through Advent with the Jesse Tree.
Follow the branches of the Jesse Tree and learn how through Jesus, we are made part of God's family too! Engaging daily devotions teach children about Jesus' family tree, telling the Old Testament history leading up to Jesus' birth and our salvation story. We sometimes call this family tree the Jesse Tree, named after one of Jesus' very faithful ancestors. For kids 6-10.
Her other resource is an Advent devotion for adults that is inspired by the movie It's a Wonderful Life and is a wonderful way to get our hearts ready for Christmas. It's titled Hark, The Herald Angels Sing: Daily Prayers for Advent.
These 28 prayers for Advent and Christmas focus on the angel messages of the Old and New Testament. Gabriel's message to Zechariah, Mary, Joseph, and the Bethlehem shepherds is also delivered to each of us. We now can reflect and be inspired by those heavenly messages to share the Good News and great joy of Jesus. The booklet includes a daily scripture passage and reflective prayer.
We're doing a giveaway of this booklet on my Facebook page, so be sure to stop by to leave a comment on the post for this episode to enter!
We also have a recommendation for a book that Stephenie has found helpful in preparing for Christmas. She said some parts could be adapted and have ideas that could work, even in a pandemic. This resource is The Christmas Project Planner: Super Simple Steps to Organize the Holidays
 by Kathi Lipp. Here's a little more info from the book description:
Ready or Not, Christmas Is Coming
Christmas—whether you really love it, secretly dread it, or fall somewhere in between—shows up the same time every year, as unavoidable as your aunt's fruitcake.
But next season, don't stress your "elf" out. Be ready with this amazing planner designed to help you get a handle on the holidays. Stay organized (and sane) when you put expectations aside and choose to focus on the things you truly want to do during Christmas.
You'll be amazed at what you can accomplish with just a little more organization and less obligation. The simple projects in this book will help you stay on schedule so you can spend more time enjoying your friends and family instead of frantically trying to cobble Christmas together at the last minute (again).
You can do this! Let clutter-free queen Kathi Lipp show you how.
---
Would you tell a friend about this episode? Please share a link with someone who would benefit from the content of this episode.
Have you reviewed the podcast yet? I'd love it if you would leave a review on Apple Podcasts or Google plus (see the links above by the audio player). Be sure to subscribe so you can get each episode on your podcasts when it is released.
Or here on my website, you can sign up to get an email every time an episode comes out. Subscribe to weekly blogzine with links to these articles/podcast.
---
(Please note: books posted here on my blog are purely because I want to share them. Sometimes I receive free copies for review, and other times I purchase the books. Some I get from the library. Either way, any endorsement I offer here on the blog is simply because I want to talk about the book. )
Michelle Rayburn is the author of The Repurposed and Upcycled Life: When God Turns Trash to Treasure, as well as a small group Bible study to accompany the book. Learn more about these and her other books here. A sample chapter of the book and Bible study are available for free download.
Subscribe and receive an email notice each time a new blog is posted.
You can also subscribe on iTunes or on YouTube
All blog content copyright MichelleRayburn.com
This post contains affiliate links, meaning, at no additional cost to you, if you click through and make a purchase, I may receive a commission. I sell my ebook via Amazon but I'm also a part of their "Associates" (i.e. affiliate) program which pays a commission on books and any other Amazon products people purchase via my links. As an Amazon Associate I earn from qualifying purchases.