I love your ideas for the antique food scale from last week! Check the comments on that post in a few days for the idea I declare my favorite. You still have time to add your idea.

This week for WWYD, I'm featuring an over the door towel bar. You find these at yard sales and thrift stores sometimes and I have one that I no longer use in the bathroom. In the photo below (from The Container Store) you'll see the traditional use for the towel bar.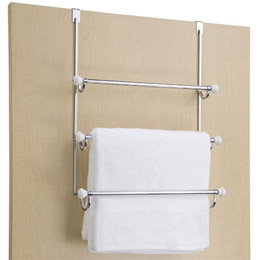 I decided to hang mine over my office door and when I sort the mail, I put any magazine that I plan to read on the towel bars. It's easy to grab one to take with me to kill time in a waiting room when needed too.
What would you do with it? Can you come up with something unique that you would use this towel bar for?
Leave your ideas in the comments below. No idea is too crazy or far out!
Michelle
Trash to Treasure Decorating
View the full post at http://www.trashtotreasuredecorating.com