Here are my most recent favorite blog posts that I discovered on Pinterest:
2. I had to hunt around to find the original blog post for this pin!* I guess the problem was it's in a language I don't speak. But the idea is cute! Here's a spool holder made from and old frame and you'll find
a picture tutorial on the Trois Fois Rien blog
. Well, if you speak French, you'll have more than a picture tutorial!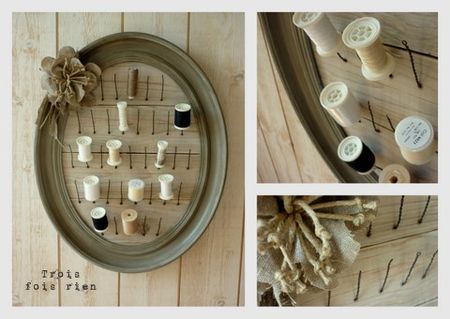 4. I hadn't thought about painting my old suitcases before but I really like this whitewashed look. I'll keep it in mind when I'm shopping at yard sales this season. Sometimes I pass them up because they don't look vintage enough. Problem solved!
5. I just picked up a giveaway crib (just the headboard and footboard) at a yard sale and I can't wait to try this! So cool. A crib turned chalkboard. Great way to use those ones that aren't considered safe for babies anymore.
The Red Kitchen has the full post.
*One note about Pinterest. Too many pins lead to just a JPG photo, rather than a blog post. I try to fix that and only re-pin to actual posts. Once in a while, I miss one that doesn't have a link, but I try to make sure I give credit to the person who took the time to post these fantastic ideas.
Michelle
Trash to Treasure Decorating
View the full post at http://www.trashtotreasuredecorating.com